Warmia native, born in Biskupiec, a Catholic clergyman (he was ordained priest in Frombork in 1926), active in Powiśle (Kwidzyn, around 1927-1934), Warmia (Unikowo, Sętal, Ignalin) and the Królewiec region (Frydland, 1937-1945) ). He finished his priestly service in the Prussian Province, which was liquidated in 1945, in Malbork.
The random detention of Father Will during the evacuation from Królewiec, which took place in Nowa Cerkiew in Żuławy, meant that from April 2nd 1945 he stayed in Malbork. Initially, as a citizen of the German Reich, he was imprisoned in a transit camp for the Germans, where he served as a chaplain (also for Evangelicals). Probably after verification, as Warmia native and a clergyman of the Catholic Church, who still retained the structure of the division of his administration before 1939, he was released from the camp and obtained permission to carry out pastoral activities for the former and new inhabitants of the city by the Nogat river.
On May 3, he celebrated the first mass after the end of hostilities in the parish church of St. John in the Old Town. Very quickly he established good relations with the first governor of Malbork, Augustyn Szpręga (1896-1949), who as Kshubian of Borowia, like Will, met the ethnic criterion allowing him to participate in the reviving administrative and social life in areas lost by Germany in the first period of installing and organizing new Polish authorities.
There is no doubt that, apart from the pastoral activity of priest Will, his ability to cooperate with the former and new residents of Malbork, allowed him to take action as a result of which he managed to secure and save many antique items, including books, sculptures and furniture.
Acting in agreement with the governor of Malbork and Fr. Giedymin Sawicki, probably through negotiations with the Polish Army, he obtained permission for some valuable monuments of sacred art from the castle (at that time branch No. 1 of the Polish Army Museum) in Malbork, including bells donated to the church of St. John; late gothic altar quarters, currently hung in the Church of Our Lady of Perpetual Help; panel paintings (two wings of the sapphire altar with the Annunciation and Christmas donated at the beginning of the 19th century from the Berlin collection by the King of Prussia, Frederick William III), or furniture (including baroque wardrobes, neo-Gothic chairs and an armchair, and a magnificent copy of the oldest preserved European wardrobe) ) to remain in the castle. All the listed monuments later became part of the property of the newly established Roman Catholic parishes of Our Lady of Perpetual Help (former St. George) and St. John.
Father Konrad Will left Malbork on January 30th 1957. He settled in Bavaria, where he was the parish priest in Poppenroth until 1975. After retiring, he settled in Cologne, where he spent the last 12 years of his life.
(by B. Butryn)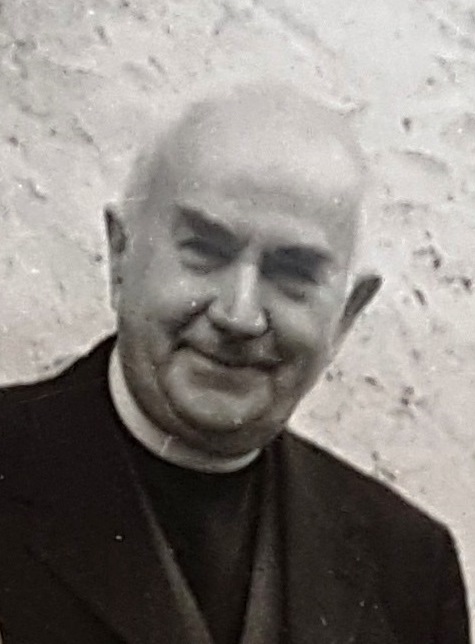 Zdjęcie ze zbiorów Muzeum Miasta Malborka