author: Francescuccio Ghissi
time of creation: 2nd half of the 19th century XIV century
technique: tempera
material: poplar board, linen canvas
dimensions: 116.5 x 83.5 cm
provenance: from the collection of Baron Socrates von der Noddgerie zu Pfefferkorn, in Malbork since 1834
current owner: The National Museum in Warsaw, since 1948
The composition of the scene is very static. In its center is Christ, shown frontally en pied. On both sides , there are two torturers holding whips with triple straps in their hands. At the foot of the Savior, on the left, a small figure of the kneeling founder.
Jesus, tied to the scourging column, with his arms crossed on his back, bows his head slightly to the left. Knee-long perizonium, draped symmetrically along the hips, revealing the belly. Head framed in a golden ornamental halo, wavy hair falling to the shoulders. Traces of suffering on the face of Christ and details of anatomy extracted linearly. The scene takes place in an unreal interior supported by a narrow, spiral column crowned with a Corinthian capital, to which Jesus is attached; in the background, symmetrically, two narrow, two-part windows. An almost monochrome composition, but not without the elegance typical of the art of an Italian trecento.
The flagellation of Christ belongs to the panel painting: it is made in tempera on a poplar board covered with linen cloth; the golden ornament was punched on the red background. The painting has the shape of a standing hexagon with cut top corners. In 1917, the manager of the castle reconstruction, Conrad Steinbrecht, ordered the painting to be framed in a simple wooden frame.
The Italian primitive painter / primitivist Ghissi, active in the northern Italian province of Marche, was on the one hand influenced by the Florentine art of Giotta di Bondone, and on the other, he was subjected to strong conservatism, typical of the folk piety of those areas.
The painting was brought to Malbork in 1834, donated by a military collector, Baron Socrates von der Noddgerie zu Pfefferkorn (see biographical note). The painting Flagellation was undoubtedly one of the most valuable objects in his collection, which included: military, arts and crafts, paintings, ship models, documents, books and natural specimens. The transfer of the entire collection to Malbork was approved by a cabinet order by King Frederick William III.
Ghissi's painting was located in the Malbork castle for 114 years, in 1945 it was secured and taken to Gdańsk, from where it was transferred to the collection of the National Museum in Warsaw on May 24, 1948 by the Conservator of the Gdańsk Province.
(compiled by Ewa Witkowicz-Pałka)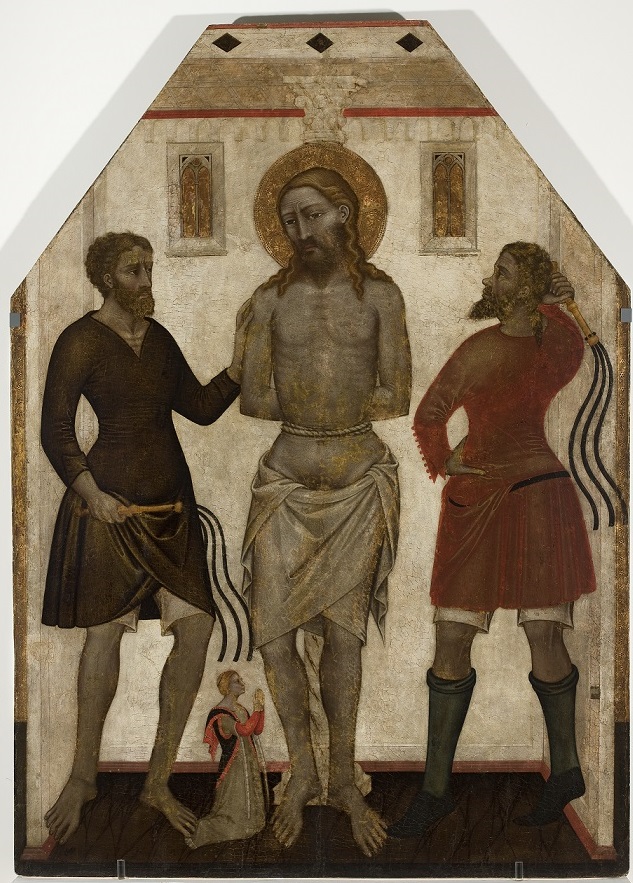 Source: Recalling History. The fate of the Malbork collections after the Second World War. ed. A. Siuciak, Malbork 2015, p. 414.