hardcover notebook, number of cards 61; paper, cardboard, black ink
dimensions: height 22 cm, width 18.5 cm, thickness with a frame approx. 1 cm
State Archives in Elbląg with its seat in Malbork, Files of the Castle Reconstruction Board (Schlossbauverwaltung Marienburg), ref. 206/559.
A hardcover notebook consisting of 61 lined pages, numbered with the sequence from the second page. It originally contained a greater number of pages, as evidenced by the traces of tearing out the last pages. On the cover of the inventory booklet there is a paper sticker 3.5 cm in diameter, red in color with a white border, depicting the Teutonic Knights castle in Malbork, preceded by the image of the Grand Master's coat of arms. There is an inscription on the rim: VEREIN FÜR DIE HERSTELLUNG u. AUSSCHMÜCKUNG DER MARIENBURG. The sticker is the property mark of the Malbork Castle Housing Society and Board. On the first page of the notebook there is a handwritten inscription in red pencil, in four lines: Verzeichnis / zu / Jaquetten Münzsammlung / III. In the upper right corner there is again the sign of the Society – a small stamp 1.5 cm in diameter, with a shield in the center, a long isosceles cross and the inscription in the rim: VEREIN MARIENBURG.
The numbered pages are divided into six columns, containing a chronological list of coins issued from 1640 to 1840 by: Frederick William I the Great Elector (1640-1688), Frederick III (1688-1701), Frederick I (1701-1713), Frederick William I (1713–1740), Frederick II the Great (1740–1786), Frederick William II (1786–1797) and Frederick William III (1797–1840). The first two columns remained empty. The third, broadest column is full, describing the subject, with reference to catalogs – most often – Henckel, also Arnim and Thomsen. In the fifth column, in the case of unique coins, the degree of rarity was used by noting R, RR. YYY. The fourth and sixth columns, like the first two, remained empty. On page 110 there is a list of numismatic items from the find in Dąbrówka, near Grudziądz. Pages 111–113 provide a list of the German medals issued from 1812 to 1891 (the years of issue listed in the first column of the table). Pages 117–118 lists the coins issued in South Prussia in 1793–1798.
(compiled by J. Czarnowska)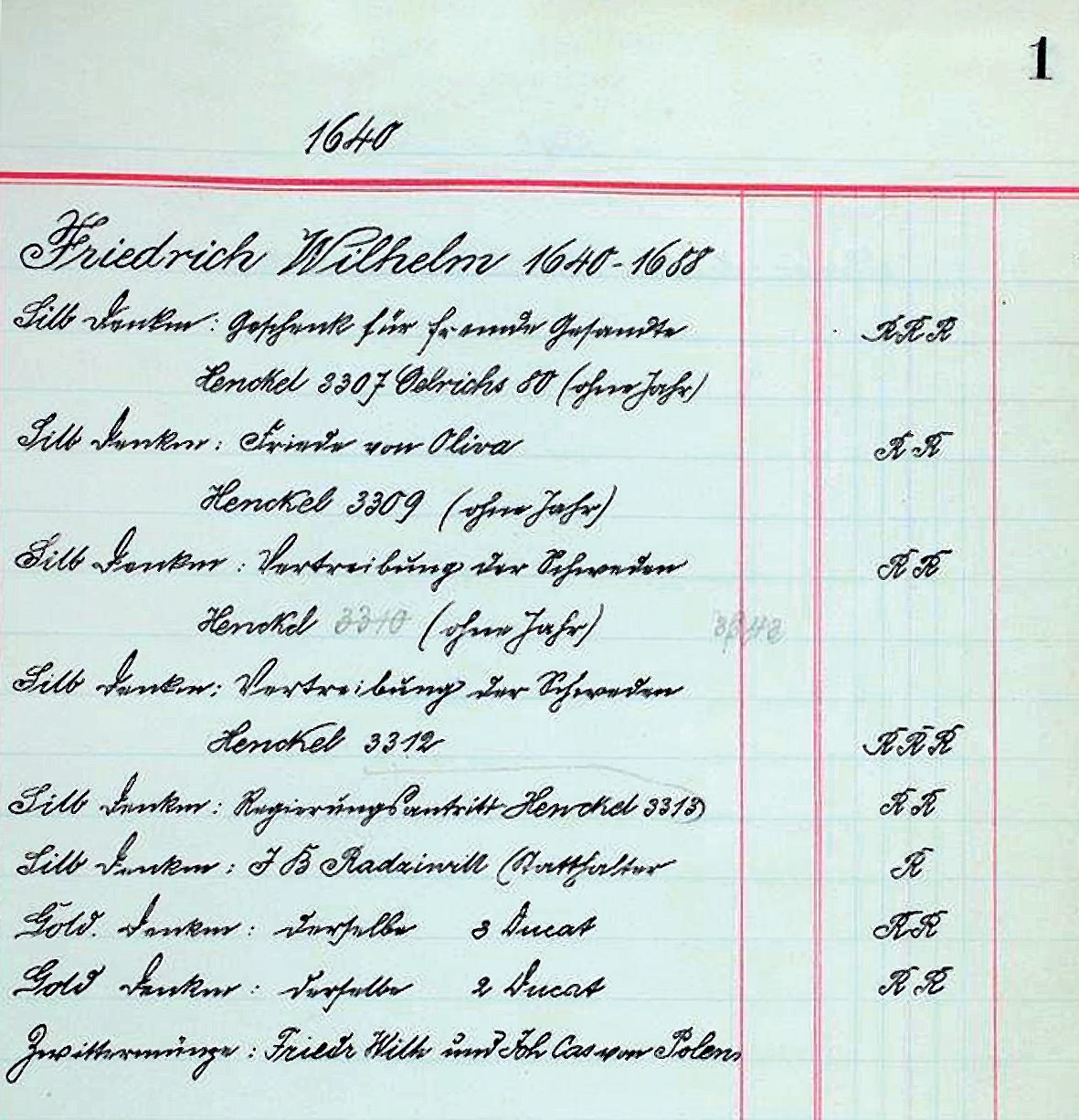 Karta inwentarza; reprod. za: Przywracanie historii. Losy malborskich zbiorów po II wojnie światowej: katalog wystawy czasowej, red. A. Siuciak, Malbork 2015, s. 374.